Reps. Markkanen, Prestin condemn FEMA's rejection to assist U.P. after severe flooding
RELEASE
|
September 19, 2023
State Reps. Greg Markkanen and Dave Prestin expressed frustration after Michigan's request for assistance from the Federal Emergency Management Agency (FEMA) was recently rejected despite major damage to the Upper Peninsula between April and May.
"When severe flooding in the U.P. caused millions of dollars of damage and serious safety concerns for Yoopers this Spring, the state sprung into action and requested a Presidential Declaration from FEMA for a much-needed lifeline," said Markkanen, of Hancock. "FEMA overlooked the substantial havoc caused by the flooding, and rejected Michigan's request – neglecting the needs of those in my community."
The denial letter from FEMA has prompted both U.P. legislators to highlight the need for federal assistance in the wake of the extreme flooding, as well as the blatant neglect to the U.P.'s unique needs. The request for a major disaster declaration would have brought much-needed public assistance, and hazard mitigation to the Upper Peninsula to assist folks who were directly impacted by the flooding – whether that be their health, home, business, a broken road, or more.
"FEMA's denial came with the explanation that 'the impact from this event was not of such severity and magnitude as to be beyond the capabilities of the state,'" said Prestin, of Cedar River. "This is a slap in the face to the thousands of Yoopers who faced overwhelming damage to their homes and properties, the small and large businesses affected, along with the many first responders who risked their lives. Further, the flooding made it impossible to enjoy the recreational opportunities we so often boast about here in the U.P.
 "This is not a partisan issue – it's a matter of safety."
Damages in Houghton, Marquette and Ontonagon counties are estimated to cost around $2-3 million, reports show, while Gogebic County is facing a bill closer to $7 million.
"I've spoken with many experts, officials and families in our communities about this – U.P. residents feel overlooked and underserved by their own federal government," Markkanen said. "This blatant neglect to the U.P. is not only a blow to our local communities, but also raises questions about the federal government's understanding of the challenges and vulnerabilities faced by U.P. residents in the wake of such disasters."
Michigan State Police in Newberry (Luce County) have since appealed FEMA's decision. Markkanen and Prestin pledge their full support for the appeal and will continue to advocate for the U.P. communities affected by the flooding.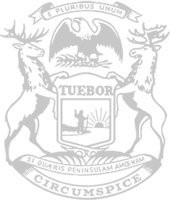 © 2009 - 2023 Michigan House Republicans. All Rights Reserved.
This site is protected by reCAPTCHA and the Google Privacy Policy and Terms of Service apply.