Reps. Prestin, Markkanen outline irresponsible, impractical plans in new Lansing agenda
RELEASE
|
September 13, 2023
State Reps. Dave Prestin and Greg Markkanen today said multiple elements of Gov. Whitmer's "What's Next" agenda work against families, consumers and small business owners in Michigan.
The governor and democratic leaders recently publicized several initiatives that will ultimately ramp up costs and regulations while dismissing problems and priorities many folks in the state feel are more pressing.
"These announcements were light on details, but the general ideas that were laid out take us even further in the wrong direction," said Prestin, of Cedar River. "Our state is constantly competing for residents and job providers. Making life less affordable and instituting more red tape is not going to bring more people to the Upper Peninsula. That's just the reality of this. We need a way forward that is going to allow people to keep more of what they earn, empower them to be self-reliant and keep government out of their day-to-day lives. That will allow us to attract talent and retain our youth, who continue to leave the U.P. to seek prosperity elsewhere."
Among the points that Prestin and Markkanen took issue with were:
Green energy mandates and timelines. The proposals will work to establish a carbon-free clean energy standard in Michigan by 2035. Prestin said the move will result in a less reliable energy grid that costs even more to operate, while not considering if the state's proposed tech infrastructure will be able to meet such a timeline.
"We don't have a good handle on the reliability and affordability of a drastically increased renewables portfolio," Prestin said. "This shift isn't practical for every area of the state and relies on solar equipment and electric vehicle technology coming from China. This mandate puts China first, and the people of the UP are a distant thought. Fossil fuels currently make up over 70% of our electric power generation at any given time. If we recklessly decommission those reliable baseload supplies, you are going to see higher energy costs, increased outages, and rolling blackouts. That's not even mentioning the increase in demand that the focus on electric vehicles is going to draw from the grid. Energy policy isn't a game; if we get this wrong, people will die."
"In Michigan, we already pay some of the highest energy rates in the country," said Markkanen, of Hancock. "The governor's plan will only increase these rates and create an unnecessary hurdle on families who are already struggling to make ends meet."
Removing local control. The carbon-free standard works hand-in-hand with potential legislation that would shift the power to permit major solar projects from municipalities and counties to state government – a move Prestin said disregards local voices, diminishes the roles of local elected officials and sets dangerous precedent for localized decision-making. Proposals like Lansing-based permitting through EGLE for aggregate mine approval, and their desire to implement a statewide septic code, stripping local input, oversight and establishing an egregious punitive process that dismisses local authority are symptomatic of where their intentions lay.
"The governor's plan places an overwhelming burden on our local townships and governments," Markkanen said. "This plan will only hurt Yoopers, and cost them for years to come."
A push for unsustainable paid leave plans. The governor encouraged a need for more paid leave for employees without offering specifics. Bills currently in the Legislature would require private workers and employers in Michigan to fund a new program which offers up to 15 weeks of paid leave every year. Prestin said the program would open the door for fraud and abuse of taxpayer dollars – like the rampant fraud that cost the state $8.5 billion from the state unemployment system the new leave program would be patterned after.
The program would be paid for by a new tax composed partly of money taken directly from workers' paychecks. The policy would also cost small businesses, who serve as the backbone of Michigan's local and state economies, millions of dollars. This would result in lower wages for workers or higher prices for consumers to offset costs. While Prestin believes that paid leave is a noble idea, he believes that there needs to be a better system than what the governor has proposed.
Prestin also underscored a push for codification of the Affordable Care Act by the governor as dangerous, given the impact it has already had on job and care providers in the region.
"We know that with the ACA (Obama Care), when you say that more people are covered, that doesn't mean they have more affordable coverage or better coverage," Prestin said. "Recycling old ideas might be politically expedient, but we know that it doesn't deliver results for the people who need help the most. Healthcare access, quality and reliability has been eroded significantly since the adoption of the ACA"
Prestin also said he would have liked to see more emphasis on shoring up local prosecutorial standards to ensure public safety as opposed to only focusing on officer recruitment and retention.
"In the U.P., law enforcement officers do their jobs, and they do them well," Prestin said. "But sometimes, whether it's due to underfunding, improper prosecutorial discretion, lack of qualified professionals, or policy, prosecutors often don't or can't bring those criminals who are arrested to trial and the charges are dropped. This results in a demoralizing of our law enforcement officers and servs as a roadblock to recruitment and retention. We need an emphasis on effective prosecution in the Upper Peninsula. While I'm glad that the governor is off the "Defund the Police" train, her proposed public safety plan won't do anything to keep criminals behind bars.
"I will continue to pursue plans in the Legislature that reflect the priorities and needs of our region," Prestin said. "This agenda missed the mark."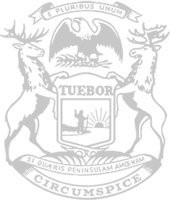 © 2009 - 2023 Michigan House Republicans. All Rights Reserved.
This site is protected by reCAPTCHA and the Google Privacy Policy and Terms of Service apply.