Rep. Allor supports historic House infrastructure plan, will address PFAS in Iosco County
Rep. Sue Allor today supported a statewide infrastructure bill that passed the state House.
As part of the plan, the Charter Township of Oscoda, located in Iosco County, is slated to receive $8.58 million for per- and polyfluoroalkyl substances (PFAS) remediation.
"Oscoda is considered ground-zero when it comes to PFAS contamination in our state," Allor said. "PFAS are extremely dangerous, man-made chemicals that have been contaminating this area for years now. Over the past 5 years, one of my top priorities has been to ensure people in that area had access to clean water. This much needed funding will help local government in connecting homes to a clean, reliable water source"
Other components of the $4.8 billion plan include:
Safe, clean drinking water: A nearly $2 billion investment will help provide safe drinking water and "clean water" grants in Michigan communities – combatting PFAS, replacing lead pipes, and improving sewer systems.
Dam safety: More than $300 million will help upgrade aging and obsolete facilities, with about $200 million headed specifically to the Midland and Gladwin county dams that failed in May 2020.
Road and bridge repairs: More than $380 million will assist state and local projects across the state. Additional resources will support airports and other transportation projects.
Technology and energy: A $250 million investment will boost access to the broadband internet needed for work, school and everyday life.
Community support and development: Local communities would receive $322 million in COVID relief and $46 million to protect against falling revenue that impacts critical local services.
"As I approach the end of my time in the Michigan House of Representatives, I am glad to see yet another one of my priorities accomplished," Allor said. "There is still work to be done, and I hope to tackle that in the upcoming budget."
###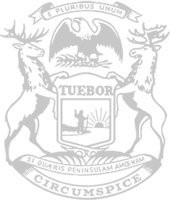 © 2009 - 2023 Michigan House Republicans. All Rights Reserved.
This site is protected by reCAPTCHA and the Google Privacy Policy and Terms of Service apply.